EUTHANASIA OF PAIN. The Real IronMan is a Romanian performer with a Giant Heart
Această știre poate fi citită și în:
Romanian
The holder of the world record for the fastest time in completing 7 Marathons and 7 Ultra-Marathons on 7 continents is the Romanian Andrei Rosu, who finished an Ironman and a Double Ironman.
Andrei is not a high performer in the proper sense of the word. He is just a person who decided at some point in his life to give up his routine and comfortable life for the sake of self-improvement and to become a model worth following for his kids.
Beyond his impressing athletic performance, the most admirable of Andrei's achievements are those as volunteer, as charitable deeds to help those less advantaged who need our support to make their living (or at least to live in dignity for as long as their condition would allow.
"Until 2010 I never had any social involvement, but once I decided changing my lifestyle – I started to do running J – I became attracted  by things that would take me out of my comfort zone. One of theseendeavors was to respond to requests for help found in my Inbox (blood donations, fundraising for case X, join an environment protection campaign etc.). Previously, the best I would do was to forward these messages to others… In October 2010 I was contacted by Hospice (n.t. Hospice Casa Sperantei) and invited to visit their palliative care center in Brasov (I wrote here about how this visit changed my life)", Andrei Rosu remembers.
Ever since, the efforts to cope with the hard world of tough competitions has been constantly triggered by the wish to attract the attention upon the charitable deeds: "I have been involved , together with Gabriel Solomon (www.gabrielsolomon.ro) the Thansmarathon (a constantly growing event promoting 3 social organizations – The school of Values, ViitorPlus (n.t. FuturePlus, and Hospice, with over 150 participants and nearly 300,000 RON raised at the two editions of the event) and the 100 km Balkan Challenge (an event organized together with Gabriel Solomon and Stanislav Georgiev and having raised over 50,000 euro for the causes promoted in 2012 and 2013). I also became a constant charitable blood donor and I decided to carry on donating blood annually until the age of 62, the maximum age admitted for blood donations. Lastly, I became ambassador of the "Wings for Life World Run" cause.
I asked Andrei to describe one of his meetings with the patients under the care of Hospice Casa Sperantei.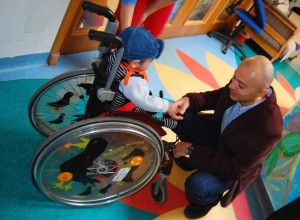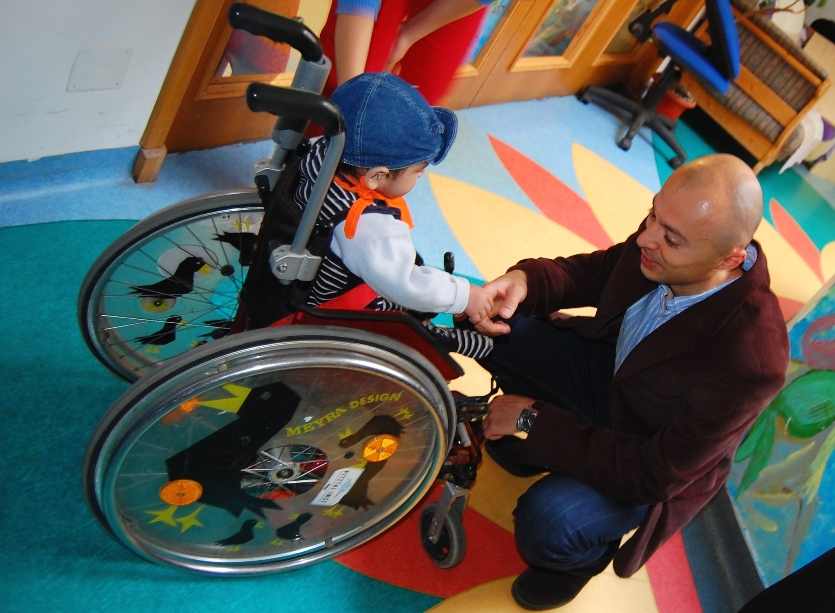 "I was deeply touched by a little boy in wheelchair, who was probably weighing less than half the normal weight for a child of his age and who was living his last weeks of life. I will never forget his eyes and the way he would hold my hand. I find it so hard to recall my feelings of that meeting… I remember his big smiley eyes, as those of any child unaware  that his life is just a matter of days or weeks, but living the moment with the child's joy and curiosity…. And the way he would hold my hand was just the way my son would (at that time my son was two), whenever I was preparing to leave home. It was a way of saying "Daddy, don't leave, I need you!…" tears come to my eyes whenever I recall those moments, but this is also the source of motivation and energy in my life".
Victor Hanescu: "For me Andrei is the peak of human existence".
There is a special page dedicated to Andrei Rosu on the Hospice website, where you can download freely Andrei's book on his experience of running the North Pole marathon – where he became the first in the world to play the drums and the Pole. In the foreword to the book, the Romanian tennis player Victor Hanescu, a Hospice volunteer himself, speaks highly about Andrei:
"I support Hospice Casa Sperantei because they have a clear and worthy mission. Anybody may have, at some point in life, a family member suffering from an incurable disease, and an organization entirely dedicated to support these people is impressing. As any charity, they need the supportof the community, and I hope to be able to support them each time I'll be given the chance. I am very impressed by the story of Andrei Rosu. People like Andrei make you proud to be Romanian, they are a source of inspiration. It is impressing how he can go beyond his limits and defy nature's laws. Only the physically and mentally strong can reach such performances, and for me Andrei is a peak of human existence. I felt the need to show my deepest appreciation for him, and the first thing that came to my mind was to buy, at a public auction organized in support of the Hospice the drums of Andrei from the North Pole. They now have a place of honor in my living room and for me they are a symbolical source of ambition and self-improvement. I wish Andrei to carry on overcoming his personal and world records and remain the happy person he is today. This is a book worth reading by each and every one of us and I do hope it will inspire many more others".
EUTHANASIA OF PAIN is a voluntary media campaign from Select News to support palliative care in Romania.
Please read further on this topic:
Euthanasia of pain – Editorial
EUTHANASIA OF PAIN 50,000 Romanians die annually in pain, hit by incurable diseases. What do we do for them?
EUTHANASIA OF PAIN Stela's Purgatory – the arrest, the cancer and the insolence of staying alive
Photo gallery from  Andrei Roșu collection:
1,923 total views, 1 views today
Comments
comments